Beauty & Self
Books & Music
Career
Computers
Education
Family
Food & Wine
Health & Fitness
Hobbies & Crafts
Home & Garden
Money
News & Politics
Relationships
Religion & Spirituality
Sports
Travel & Culture
TV & Movies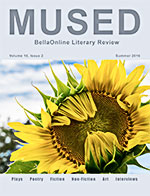 For many people, summertime is the perfect time to explore creativity. Plein air artists bring easels to gardens and beaches, showcasing nature's colors in oils, acrylics, and watercolors. Photographers ferret out a million sights to immortalize. Poets and writers stretch languidly beneath a shady oak tree, listening to the gentle buzz of insects, and constructing entire worlds out of the ether.

Enjoy the creativity of our community of artists - and then explore your own! We'd love to see your works for upcoming issues!

Summer Solstice 2016 issue of Mused

Having Purpose Delays Disease
Geriatrics - Patricia Villani, MPA, PhD, Editor

Learn how to fight off Alzheimer's and promote brain health as we age. A major study describes how we can live life with purpose and help fight disease at the same time.




Tumors From Tea Debunked
Tea - Mary Caliendo, Editor

Medical testing and studies done and their results regarding tumors and tea as the cause, debunked.




A Woman Found Dead in a Farmhouse Book Review
Suspense / Thriller Books - Karen Hancock, Editor

This trilogy begins with Rebecca Heilshorn, who is found dead in a remote farmhouse; Brendan Healy, a recovering alcoholic with many personal problems is the detective trying to solve the murder. As he investigates, he is drawn into a world of powerful politics and organized crime.




Shanghai Film Review
Drama Movies - Angela K. Peterson, Editor

A throwback to the classic Hollywood style of "Casablanca" and "Shanghai Express", this film is a romantic espionage thriller starring John Cusack as an intelligence officer who investigates the murder of his best friend, and in doing so, stumbles across the Japanese plan to attack Pearl Harbor.




Il Lavoro Chiacchierino #19
Tatting - Georgia Seitz, Editor

Il Lavoro Chiacchierino #19 2016 pub Casa Editrice Mani di Fata, the newest issue of the Italian tatting magazine.




The Haunted Castle of Illinois
Paranormal - Deena Budd, Editor

Villa Kathrine is a Moorish-like castle built on a bluff overlooking the Mississippi River in Quincy, Illinois. It has such an interesting history that I am not surprised to find a few spirits involved in the legend as well.


| Google+ |
E D I T O R R E C O M M E N D E D
Fall in Love With Your Feminine Power


This 8-week DailyOm online course incorporates meditation, energy healing, and women´s energetics work to help you heal, empower and awaken your connection to your feminine energy body. It includes print materials, video, and guided audio meditation. No prior meditation or energy work experience necessary. Embrace your full power, health, joy, and spirit!
Addicted to Stress by Debbie Mandel


A Woman´s 7 Step Program to Reclaim Joy and Spontaneity in Life (Hardcover) In this highly original program for stress reduction, stress management expert and radio personality Debbie Mandel explains that women who are constantly stressed out have forgotten the dreams of the free-spirited girl living inside them before they became somebody's wife, mother, or workplace colleague.
Visual Link Spanish


Spanish language, interactive lessons. You can try 11 lessons for free. I´ve been recommending this course for several years, as I find it very intuitive.