Beauty & Self
Books & Music
Career
Computers
Education
Family
Food & Wine
Health & Fitness
Hobbies & Crafts
Home & Garden
Money
News & Politics
Relationships
Religion & Spirituality
Sports
Travel & Culture
TV & Movies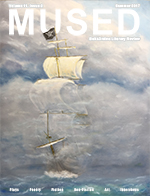 Our time on this Earth is fleeting and precious. We often know that in a vague, intellectual sense, and yet we can find ourselves whittling away those finite minutes without mindful thought. We should celebrate the beauty in a child's smile. The radiant sound of saying "I love you" to that special person. The warm touch of a hand. The delicate scent of a wildflower.

Enjoy the Mused Summer Solstice 2017 Issue



Essential Guide To Aromatherapy Massage Oils
Body Care - BB Lee, Editor

The fact is that essential oils are for health, beauty, cosmetic, and health purposes. The nature based oils heal the body, reduce stress, rejuvenate the skin, and treat a wide variety of common ailments.




INTERVIEW 2 Evelyn Rainey
SF/Fantasy Books - Evelyn Rainey, Editor

The second of two interviews with American educator, author and publisher Evelyn Rainey




Invisible Zipper Tips
Sewing - Cheryl Ellex, Editor

It can be done. It is possible to sew an invisible zipper with great results. Actually it is not the zipper itself that is "invisible" just the fact that the sewn zipper is concealed, visually hidden from the outside and neatly tucked within a seam allowance once zipped closed.




5 Daily Cleaning Tasks
Cleaning - Tammy Judd, Editor

If you are feeling overwhelmed by your home and its lack of cleanliness, look no further. In this article I will lay out 5 simple tasks that you can do DAILY to feel like your house is FINALLY getting clean.




Valerie's Man Magnet Taco Soup Recipe
Quick Cooking - Karen Hancock, Editor

This quick, easy, and yummy Taco Soup will become a favorite, especially since calls for ingredients that are readily available, and most are probably in your freezer, fridge, or pantry right now.




Difference Between Cruelty Free and Vegan
Cosmetics - Katrina Simmons, Editor

You may have seen various symbols on your makeup to indicate that it is cruelty free or vegan. Maybe you are someone that is interested in or wanting to know more? This article will answer some of the questions that you may have when it comes to choosing your cosmetics.


| Google+ |
E D I T O R R E C O M M E N D E D
Lidia´s Italy


A great Italian cooking book, with a diverse selection of Italian recipes that will takes the readers on a journey through some of the most beautiful areas of Italy and their grand culinary traditions.
How to Write Descriptions of Eyes and Faces


by Val Kovalin, your BellaOnline editor for the Fiction Writing site. Learn to describe the appearance of the eyes, actions involving the eyes, and how to describe eyelids, eyebrows, and eyelashes. More than 2,000 words explaining 82 color names to assign to eyes. Facial shapes, forehead, ears, cheekbones, nose, lips, chin, and facial hair. Learn how the face shows different emotions, and more!