Beauty & Self
Books & Music
Career
Computers
Education
Family
Food & Wine
Health & Fitness
Hobbies & Crafts
Home & Garden
Money
News & Politics
Relationships
Religion & Spirituality
Sports
Travel & Culture
TV & Movies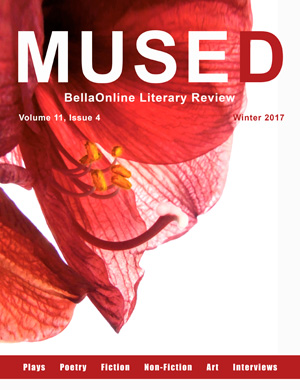 We all travel on this blue-green ball around our very own star each year, sliding a little closer, sliding a bit further away. The balance is critical. Too much closer and we'd roast. Too much further away and we'd freeze.

We should be aware of just how blessed we are that our Earth is "just right" - and do what we can to keep our world healthy. It's the only one we have.

Enjoy the Mused Winter Solstice 2017 Issue



Vogue Knitting Book Review
Knitting - Korie Beth Brown, Ph.D., Editor

It's BIG. Man, is it big. Depending on who you are, this may or not be a problem.




Yoga Journal and Yoga International
Yoga - Korie Beth Brown, Editor

Two great magazizines for yoga enthusiasts - what could be better?




Christmas Tatting - Inga Madsen
Tatting - Georgia Seitz, Editor

The cover of Inga Madsen's 2017 Christmas Ornament book shows an asymmetrical tatted heart which is very "avant-garde" in construction. It is a wonderful example how we can modernize our traditional tatting designs and find a new metier to explore.




The Beautiful Aroma of A Home Apothecary
Fragrance - Juliette Samuel, Editor

What does an herbalist and aromatherapist have in common? The environment in which they work. Explore the common ingredients found in their apothecary and used by the two of them.




The Right Way To Care For Ethnic Skin
Ethnic Beauty - Juliette Samuel, Editor

As you peel away the heavy clothing moving into warmer temps, your skin will need to peel away dead skin cells that have been making your face their home. Here are basic regimens for day and nighttime use. Enjoy!




Haunted Kingsport, Tennessee Theater
Paranormal - Deena Budd, Editor

The State Theater was designed in 1935 by Erle Stillwell, son of Hannibal, Missouri's notorious murder victim Amos Stillwell. The State Theater closed the year that Erle passed away. Years later during a renovation period, paranormal activity was observed. Does his spirit haunt the old building?


| Google+ |
E D I T O R R E C O M M E N D E D
Spectorsoft EBlaster 6.0 Security and Monitor Soft


Installed in less than five minutes the eblaster software monitors the online activity of children. Providing email alerts to the designated email whenever a child receives or sends an email. Also, allows monitoring of chat rooms, key strokes, and instant messages. See who is talking to your child online.
Heart Strings - cozy mystery


Will she be brave enough to confront the murderer for the scoop of a lifetime? A quirky cozy mystery to keep you entertained and guessing to the last page. First in the Evelynton Murder Series
Ultra Luster Waterless Car Wash


Ultra Luster Waterless Car Wash: Article Coming in Spring but you can buy it now! Waterless Car Washing just got easier and the results just got better! Get yours now at: UltraLuster Wash, Phone: 877-677-4463, Email: sales@ultralusterwash.com, distributors@ultralusterwash.com shipping@ultralusterwash.com customerservice@ultralusterwash.com