Beauty & Self
Books & Music
Career
Computers
Education
Family
Food & Wine
Health & Fitness
Hobbies & Crafts
Home & Garden
Money
News & Politics
Relationships
Religion & Spirituality
Sports
Travel & Culture
TV & Movies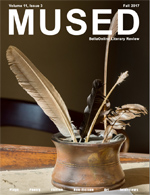 Autumn is a season for counting our blessings. For realizing just how much we have in life where so many others are without. It can often be easy to take things for granted. Things which millions of people desperately dream of having. By pausing for a moment, and looking around with mindfulness, we can find a new center. Begin with fresh energy.

Enjoy the Mused Autumn Equinox 2017 Issue



Learning About the World Builds Reading Skills
Reading - Connie Mistler Davidson, Editor

Catch the young child's interest in the world around her. Make sure that she has access to a variety of reading materials. Building strong readers starts years before a child ever goes to school and enters the classroom. Birth to age 5 is a critical time in your child's intellectual development.




A History of the Florida Constitution
Florida - Georgiana Kurtz, Editor

This year, 2017, is a year when the Florida Constitution Revision Commission meets. This article gives a brief history of the Florida Constitution and lists the ways in which this document can be amended.




Broth Bowls for Family ADD Nutrition
Attention Deficit Disorder - Connie Mistler Davidson, Editor

Broth bowls are an easy way to get more nutrition into your family's meals. They are as easy as finely chopping veggies & throwing them into the bowl! Protein can be plant or animal based but, it does need to be precooked. Good nutrition helps families keep the negative symptoms of ADD at bay.




Hassle-Free Holiday Decorating
Landscaping - Connie Krochmal, Editor

The holiday season is hectic enough, so why not choose a simple and easy approach to holiday decorating?




Heart Condition of Love
Baptist - Celestine A. Gatley, Editor

Do you have a heart for others? Serving others and putting their needs above self is edifying to the body of Christ. The things that we may consider insignificant just might be the motivation or inspiration that someone else needs. Serving others is to serve Christ.




Warning: Tech Neck Is Real
Body Care - BB Lee, Editor

Tech Neck is a health problem that was first noticed in adolescent teens who were spending an enormous amount of time texting. However, older adults are catching up.


| Google+ |
E D I T O R R E C O M M E N D E D
Make Clothes for 18 Inch Dolls


With this book you can make a complete wardrobe for 18 inch dolls; including dresses, pants, jewelry, a bag and a crocheted outfit.
Eagle One is 2nd to None!


Everyone should have the basics to keep their rides shiny and road ready. The only way to do it is with Eagle One all day long!